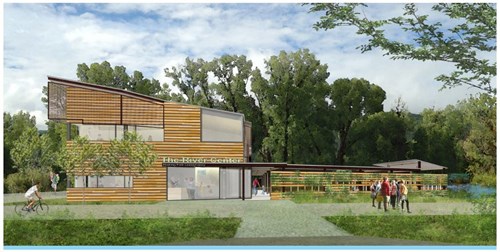 Since its inception in 1996, Roaring Fork Conservancy has envisioned creating a River Center in Basalt, the center of the Roaring Fork Watershed. Like the nature centers of the 1960s and 1970s, that sprang up in response to the growing disconnect between people and their environment, the River Center aims to strengthen the connections among people, their local rivers and watershed by creating an inviting space with a highly visible facility to serve as a base for educational community programming.
Situated near Old Town Basalt and the new Pan and Fork Park, The River Center provides easy access for both residents and visitors to drop in and learn more about the pivotal role rivers play in the community, the watershed, the state and the American West. The River Center would also boast an ideal location to host water-related educational seminars and classes, in addition to providing much needed lab space for water quality testing and river research.
With the unique combination of accessibility, visibility and functionality, the River Center is not just a building; it is an innovative concept to demonstrate, experience and share the actions and interactions necessary to protect our exceptional rivers and watershed.
Architectural design, planning and renderings provided by Harry Teague Architects.