Thursday, December 10, 2020 - 6:00-7:30pm
Grizzly Creek Wildfire: Estimating Post Fire Watershed Response 
A virtual presentation by:
Steve Hunter, PE, PH - Utilities Resource Manager, City of Aspen Water Department and Former Burned Area Emergency Response Coordinator & Specialist on the White River National Forest  

Before joining the City of Aspen just recently, Steve was the Burned Area Emergency Response (BAER) Coordinator and Specialist on the White River National Forest. Steve still works with the U.S. Forest Service and Bureau of Land Management on wildfires, including the recent Grizzly Creek Wildfire. With his extensive background as a professional hydrologic engineer and hydrologist, Steve will present a synopsis of what happens after a wildfire, and provide an overview of the three phases of wildfire restoration including:
1. Suppression repair and resource advisors (READS),
2. Burned Area Emergency Response (BAER),
3. Long-term repair and monitoring with the U.S. Forest Service, Natural Resources
Conservation Service (NRCS), United States Geological Survey Landslide Hazards Program (USGS), and researchers from Utah State University's Utah Water Research Laboratory.
This virtual presentation is FREE but REGISTRATION is REQUIRED to receive log in details. Register at www.roaringfork.org/events/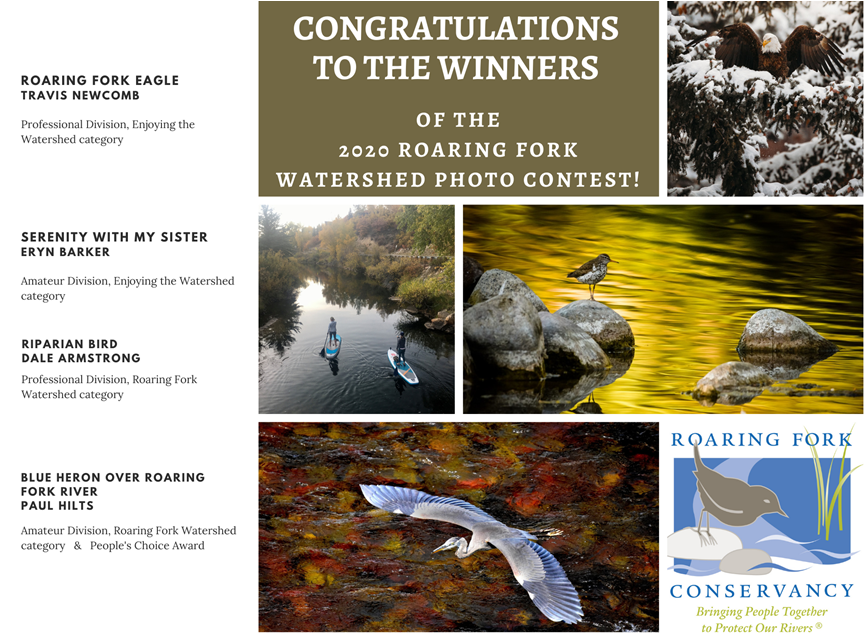 Thank you to all the photographers who submitted photographs and to John Newbury, Jordan Curet and Shannon Outing for judging the photographs, and everyone who voted for the People's Choice Category.
Save the Date or Schedule your Support!
Colorado Gives Day is December 8
One way to celebrate #GivingTuesday is by scheduling your Colorado Gives Day support for December 8 to help us receive a portion of the $1Million Incentive Fund! 
ColoradoGives.org is graciously made possible by Community First Foundation and FirstBank. Schedule your gift today or save the date to show your support at www.coloradogives.org/roaringforkconservancy!
We are Glenwood Springs Ford Community Partner for December
We are so excited that Glenwood Springs Ford selected Roaring Fork Conservancy as their Community Partner for December!
In September of 2019, Glenwood Springs Ford launched Community Partners Program with the purpose of "getting money into the hands of established local non-profits that share their desire to make our community better."
Throughout this month, Glenwood Springs Ford has committed to reserving $50.00 for every car and truck they sell up to $2,500. In addition, they will match the community's donations - up to $2,500, also!
Thank you, Glenwood Springs Ford and to everyone who makes a donation helping us reach $5,000!
Donations can be made at www.roaringfork.org.
Need to order your holiday cards?
Use program code: FundraiseFork at Minted.com to save 20% and 15% is donated to RFC!
Looking for the perfect stocking stuffer?...how about a gift that supports Roaring Fork Conservancy, too!
Click here for additional details. Supplies are limited. We ship!
City Market Rewards for your Rivers!
If you have a City Market loyalty card, supporting your watershed is as easy as 1-2-3!
1) Click enroll and log in to your account at www.citymarketcommunityrewards.com
2) Search for Roaring Fork Conservancy or CV113
3) Click Enroll and you're ready to support your rivers while you run errands! 
Learn more at: https://www.citymarket.com/account/enrollCommunityRewardsNow/

DECEMBER SPOTLIGHT BUSINESS MEMBERS:


 Friendly. Knowledgeable. Local. Since 1982
In a world class skiing town like Aspen, Colorado, it seems quite difficult for ski rental shops to carve out a niche for themselves. But Incline Ski and Board Shop has done just that by offering unparalleled value, service and convenient locations.
 Incline Ski Shop has two great locations. One at the base of the Aspen Mountain Gondola in the North of Nell building (one block east of the bus stop at Ruby Park), and the other at the base of Snowmass Ski Area at the end of the Snowmass Mall, next to the town bus stops.
Thank you for helping protect our rivers and streams!