Happy New WATER Year! 💧
Sign up for weekly river and snowpack reports

Friday, October 1 was the beginning of a new water year. The water year, which begins on October 1 every year, is a term commonly used to describe a 12-month period for which precipitation totals are measured. Its beginning differs from the calendar year because in the late autumn, winter snow begins to accumulate creating the first and primary source of moisture that will become next summer's runoff. The high-elevation Engelmann spruce and subalpine fir forests in the watershed act as frozen reservoirs, collecting and holding the winter snow, then slowly release the valuable stores of water
throughout spring and early summer.

With the arrival of water year 2022, we happily usher in the cooler weather and beauty of fall colors and the optimism that a new year can bring. Although unforeseen challenges lie ahead, we all remain hopeful for a good
or even average water year to replenish the ecosystem.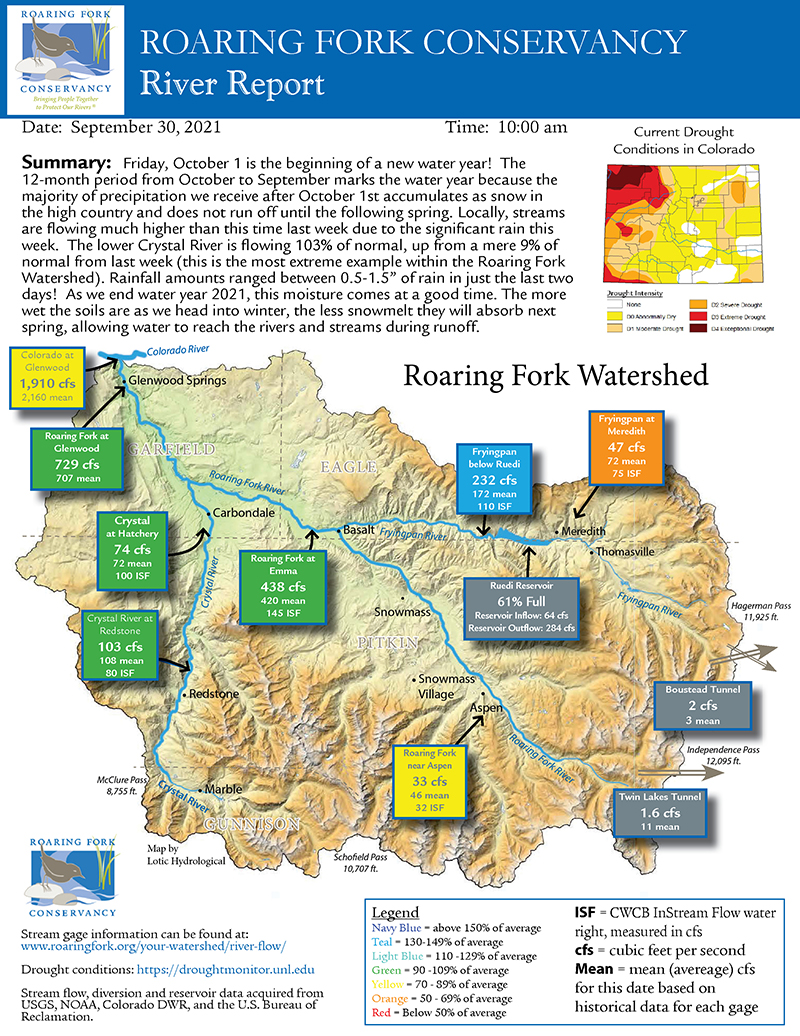 Did you know we write a weekly river and snowpack report? Every Thursday afternoon you can read the report on RFC's website and social media pages, OR read it every Friday on page 2 of The Aspen Times, OR sign up to receive the reports in your inbox.
Stream Temperature Update
While local stream flows remain well below average for this time of the year, stream temperatures have dropped throughout the fall and are now below the 68°F threshold considered stressful for aquatic cold-water species. Here are some additional updates:

💧 RFC volunteer citizen scientists collected water temperature data through the Hot Spots For Trout program this summer. While these volunteers collected data throughout the entire watershed, it was the lower Roaring Fork and Crystal Rivers that primarily exceeded 68° F in this dataset.
💧 This matches RFC temperature logger data which show steady temperature declines since mid-August.
💧 Increased releases from Ruedi Reservoir in late summer/early fall  provided a much needed cooling effect on the Fryingpan and lower Roaring Fork Rivers.
💧 The lower Crystal River, which does not benefit from Ruedi releases, maintained temperatures near the 68°F threshold into mid-September and have only just begun to drop in the last two weeks.


We are extremely grateful to the Hot Spots for Trout volunteers that collected and reported almost 300 stream temperature readings since early July!  Thank you!

Rob Angier, Ted Behar, Jeff Davlyn, Sheldon Doolan, Ken Everett, Abby Harris, Greg Jeung, Jennifer Long, Lani Kitching, Brent Maiolo,                         Buzz McArthur, John McDermott, William Mitchell, Christine Pearson, Joel Shute, Karin Teague, Doug Walker, Steve Wilson
North Star Preserve, Coal Creek and the Crystal River Make Great Classrooms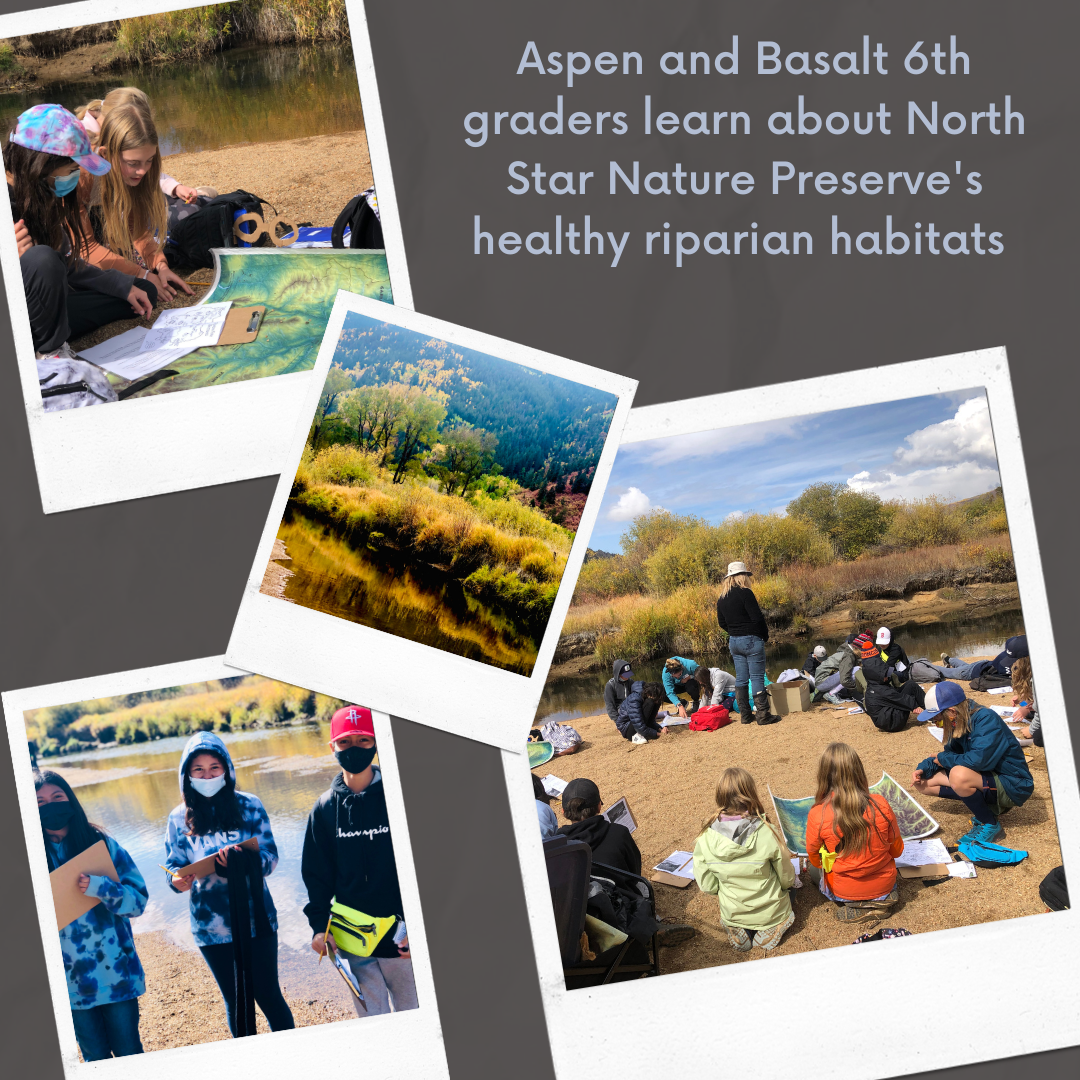 RFC educators are busy leading school field trips throughout the valley. Students and teachers are excited to get out this fall and enjoy the beautiful riparian areas in the Roaring Fork Valley!

We are now scheduling for November and December school programs. Teachers, if you are interested in scheduling a program contact education director, Megan Dean, at megan@roaringfork.org.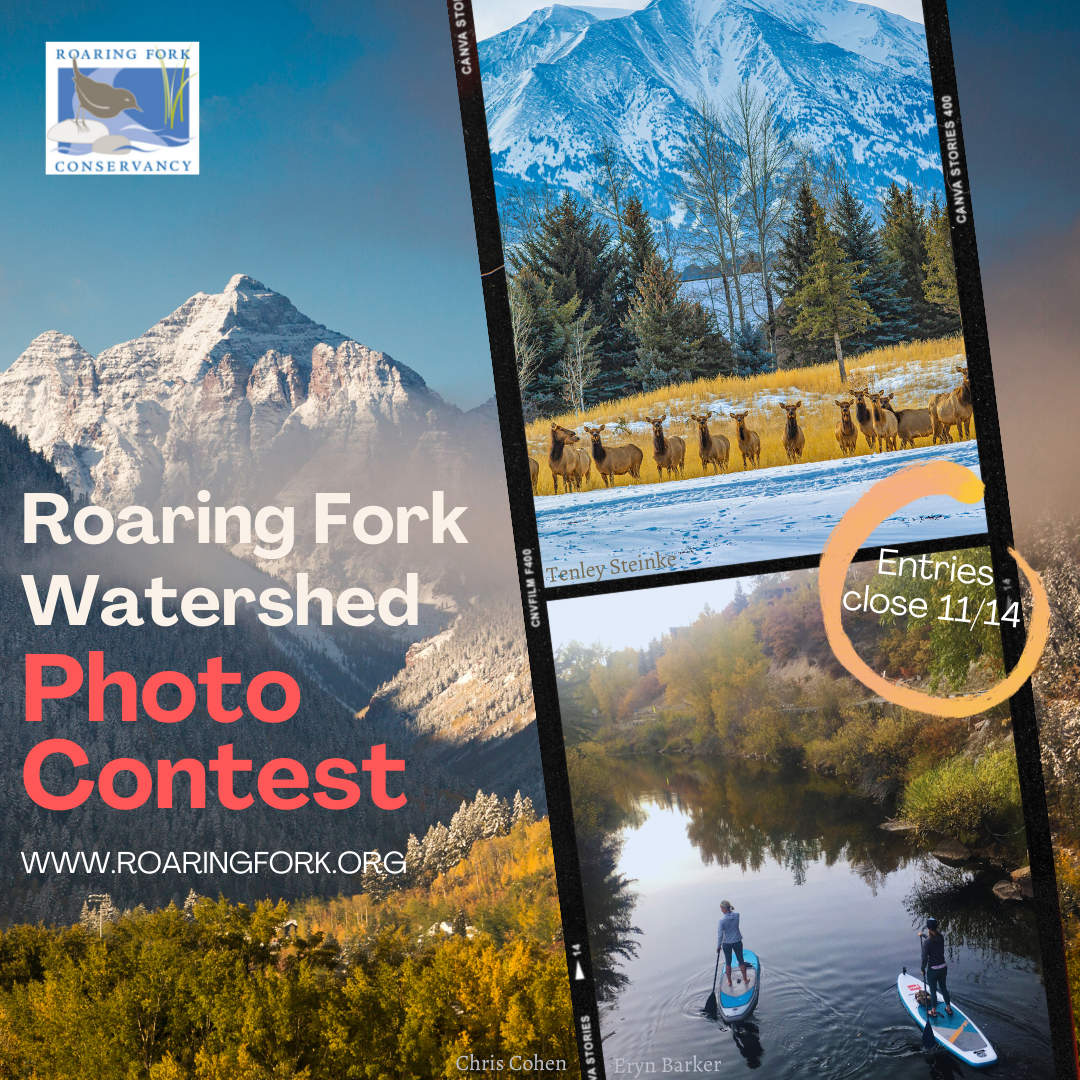 Photo submission details and additional information can be found at www.roaringfork.org/education-and-outreach/annual-photo-contest/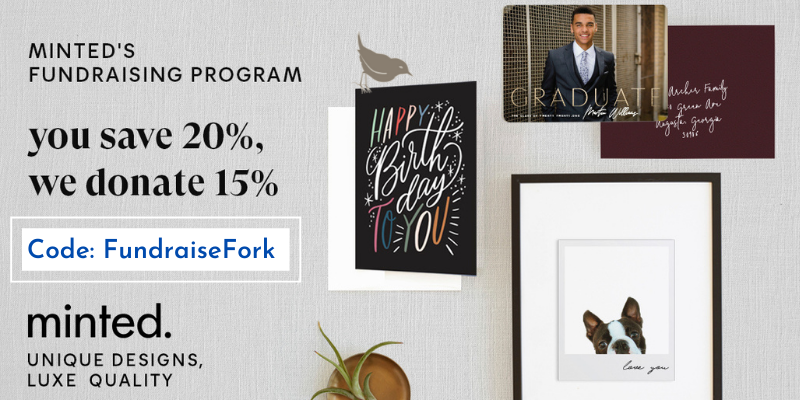 When you shop Minted.com's marketplace of independent artists to find the perfect card, personalized stationery or gift using our code: FUNDRAISEFORK - you'll save 20% + Minted.com will donate 15% of your order to Roaring Fork Conservancy!
City Market Rewards for your Rivers!
If you have a City Market loyalty card, supporting your watershed is as easy as 1-2-3!
1) Click enroll and log in to your account at www.citymarketcommunityrewards.com
2) Search for Roaring Fork Conservancy or CV113
3) Click Enroll and you're ready to support your rivers while you run errands! 
Learn more at: https://www.citymarket.com/account/enrollCommunityRewardsNow/

OCTOBER SPOTLIGHT BUSINESS MEMBERS:
 
Expertise and Superior Service 
We believe in the value of relationships. We view every client relationship like a partnership, and truly believe that our success is a result of your success. We are committed to providing close, personal attention to our clients. We take pride in giving you the assurance that the personal assistance you receive comes from years of advanced training, technical experience, and financial acumen.
 office@bprcpa.com | 970-384-0400 | www.bprcpa.com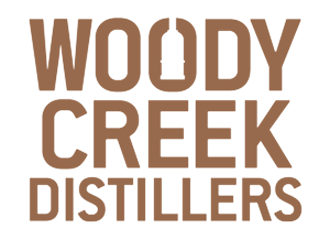 Welcome to Woody Creek
Home to wild trout, gonzo writers, and masterfully distilled spirits as complex and surprising as the place they were born. Pull up a chair, take a slow, joyful sip of one of our award-winning spirits, and get to know your neighbor up the creek.
woodycreekdistillers.com | 970-279-5110 | Book a Private Event
Tasting Room & Distillery: 60 Sunset Drive, Basalt, CO 81621
Thank you for helping protect our rivers and streams!