VOLUNTEERS NEEDED!
(click on flyer for more details)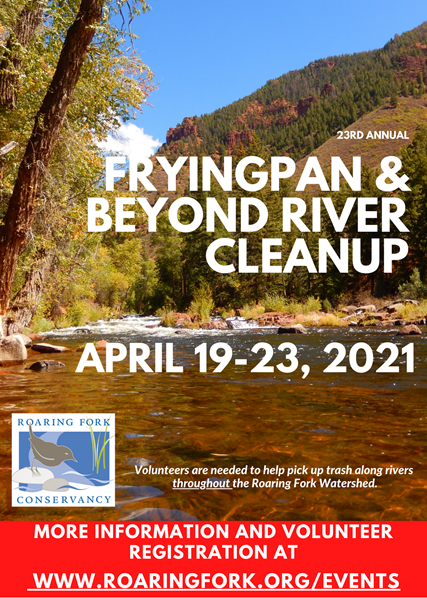 Youth & Adult Fly Fishing Clinics!

Registration now open! 
NEW this year, RFC is partnering with Taylor Creek Fly Shop to teach 5-8th graders how to fly fish! 
RETURNING this year, are the popular Women's Only Fly Fishing Clinic and the Beginner Adult Fly Fishing Clinic, offered in partnership with the Roaring Fork Valley Fly Fishing Club.
In each of the clinics, anglers will learn the basics of equipment, stream biology, aquatic insects, choice of flies, casting, and fish! 
Additional details, clinic dates, and registation can be found at www.roaringfork.org/events/.
Register soon as spots are limited!
Attention Business Owners!
Clean, reliable water keeps business booming!
Did you know anglers, hunters, and wildlife watchers spent $144.7 billion on activities nationwide in 2011?* 
In the Roaring Fork Valley, the economic impact of angling on the Lower Fryingpan River alone is $3.8 million annually, according to a 2014 economic study.**
Show your clients and customers that you support essential river research, education, and conservation work.
Click on the logo to become a Business Member for 2021 - TODAY!
* The Clean Water Rule for Communities | **Lower Fryingpan and Ruedi Reservoir Economic Impact Study
City Market Rewards for your Rivers!
If you have a City Market loyalty card, supporting your watershed is as easy as 1-2-3!
1) Click enroll and log in to your account at www.citymarketcommunityrewards.com
2) Search for Roaring Fork Conservancy or CV113
3) Click Enroll and you're ready to support your rivers while you run errands! 
Learn more at: https://www.citymarket.com/account/enrollCommunityRewardsNow/

APRIL SPOTLIGHT BUSINESS MEMBER:



Land Design 39 is a landscape architecture and design firm founded in Aspen, Colorado. Based on over twenty years of experience, we have a history of projects from small scale residential design to large scale land planning. We have a passion for landscape design that works in concert with the natural environment, and creates unique spaces based on each project's program elements and goals. Collaboration with team members from ownership to architects, and contractors to engineers is an essential element of our design process.
About | Projects | Inspiration | Let's Talk
Thank you for helping protect our rivers and streams!