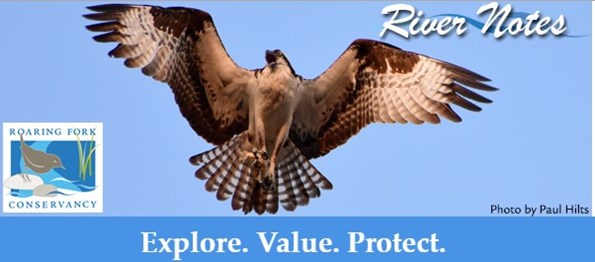 Tuesday, November 12, 2019 - 5:30-7:30pm
Science be dammed; How ignoring inconvenient science drained the Colorado, and its relevance to the future of the Colorado River
A presentation by: Eric Kuhn, Author and Retired General Manager of the Colorado River Water Conservation District 
In 2018, Eric Kuhn partnered with John Fleck, author of Water is for Fighting Over and Other Myths about Water in the West, to write a book about our understanding of Colorado River hydrology. Conventional wisdom is that the compact negotiators did the best they could with a limited gage record that happened to be during a very wet period. Kuhn and Fleck show that contrary to this myth, the politicians, states, and water agencies that shaped the development of the river had the science available to them to make better decisions, but political expedience prevailed and the science was ignored. Today, the Colorado River is overused and facing a future where climate change is reducing its flows. As we shape the future of the Colorado River, will we learn from our past mistakes or will we continue to ignore inconvenient science?   
FREE but seating is limited. Reserve your seat at http://www.roaringfork.org/events/
Thursday, December 12, 2019 - 7:00-9:00pm
Predicting powder and the science of snow with meteorologist Joel Gratz 
A presentation by: Joel Gratz, Founding Meteorologist of Open Snow
Join RFC and Joel for a fun and entertaining evening full of snow and science!
Joel will present what the latest research says about how far in advance we can predict powder, he'll pinpoint which weather patterns bring the most snow to central Colorado, and he will also take you through a live forecast by showing the same satellite, radar, and weather model maps that he uses to make his daily predictions.
$10 and seating is limited. More details and registration at http://www.roaringfork.org/events/
Support your rivers EARLY!  
Post this badge on social media to show you gave early!
November 1, is the first day you can schedule your gift for Colorado Gives Day!
They will still count towards the $1Million Incentive Fund!
Schedule your gift TODAY at  ColoradoGives.org/RoaringForkConservancy

Read our 2019 Fall/2020 Winter Newsletter
Reading the River
Take a literary walk from the bottom of the Roaring Fork River to the top of the watershed with RFC staff and guest contributor, John P. Newbury. The newsletter includes the following articles:

Understanding Watersheds
Below the Surface...Stream Health from a Different Perspective
The Three C's of Fish Habitat
The Brooksher Watershed Institute 2019 Fall and 2020 Winter Speaker Series Schedule
Making the Hydrograph Your Favorite Graph
Students Develop Sense of Place & Connecting by Reading Rivers and Watershed Maps
What's with the Gray Bird in the RFC logo?
Teach Your Children to Read the River with Dee Dee the Fryingpan River Dipper


Order your holiday cards from Minted and support your Roaring Fork Watershed!
Use code FUNDRAISEFORK to support Roaring Fork Conservancy 
November's Spotlight Business Member: Ute Mountaineer
 The Ute Mountaineer is a family-owned and operated store that has served the Aspen community since 1977.
We sell only the highest quality and value goods available in the outdoor industry. We carry what we know and use. Our goal is to be the best outdoor specialty store in the industry. We endeavor to have the best-educated employees and make their lives better through their association with the Ute. Likewise, we strive to enrich the community we work in through our participation in and support of community events and outdoor education programs. We want to share our passion for the outdoors with our customers and develop partnerships with other outdoor stores, vendors and organizations that also represent this ideal.
210 South Galena St, Aspen, CO | (970) 925-2849 |  www.utemountaineer.com
Thank you Ute Mountaineer for helping protect our rivers and streams!