Thursday, December 12, 2019 - 7:00-9:00pm
Predicting powder and the science of snow with meteorologist Joel Gratz 
A presentation by: Joel Gratz, Founding Meteorologist of Open Snow
Join RFC and Joel for a fun and entertaining evening full of snow and science!
Joel will present what the latest research says about how far in advance we can predict powder, he'll pinpoint which weather patterns bring the most snow to central Colorado, and he will also take you through a live forecast by showing the same satellite, radar, and weather model maps that he uses to make his daily predictions.
This program is full. Sorry, no extra seats at the door.
Please join the waiting list at  http://www.roaringfork.org/events/
Patagonia Match: The Gift of Giving
When you donate to Roaring Fork Conservancy through Patagonia Action Works, your gift will be matched up to $10,000!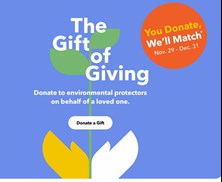 You can even make your donation a gift in honor of someone. When you donate you can choose to print your card or have an ecard delivered to your recipient.
The gift of a healthy watershed is perfect for the person who has everything!
Support your rivers EARLY!

Post this badge on social media to show you gave early!
Don't forget to schedule your gift for Colorado Gives Day!
Your support will still count towards the $1.5 Million Incentive Fund!
Schedule your gift TODAY at ColoradoGives.org/RoaringForkConservancy
CONGRATULATIONS!
2019 Roaring Fork Watershed Photo Contest Winners
We are excited to announce the winners from our 15th annual Roaring Fork Watershed Photo Contest!
Professional, Roaring Fork Watershed:
Elk Sunrise by Jeremy Joseph
Professional, Lake Christine Fire:
Lake Christine Fire by David Clark 
Amateur, Roaring Fork Watershed:
Osprey Chick by Les Rosenstein
Amateur, Lake Christine Fire:
Basalt Mountain Rebirth by Mark Fuller
People's Choice Award:
Osprey Chick by Les Rosenstein
Thank you to all the photographers who submitted photographs and to Kara Moore, Shannon Outing and Anna Stonehouse for judging.
We also thank Glenwood Hot Springs Resort for providing Photo Contest prizes.
Click HERE to see the winning photos and all photo submissions.
Looking for the perfect stocking stuffer?
Click here for additional details.
Limited supplies.
To guarantee gifts in time for the holidays, pick up your order at The River Center!
River Watch Open House
RFC and River Watch of Colorado hosted a Meet and Greet event for volunteers participating in the River Watch Program.
Participants from Aspen to Silt connected with each other, meet River Watch staff, and heard Barb Horn, founder of the River Watch program, speak about how River Watch data is utilized throughout the State.
Education Highlight: "Diving" with Dippers 
Basalt kindergarteners dove
 into learning with Dee Dee the Fryingpan River Dipper over the last month. 

After listening to Dee Dee's story, students created nests for their dipper families. The students loved finding the perfect spot to place their nests along our indoor model of the Fryingpan River.
Still need to order your holiday cards?
Use Minted.com and support your rivers!
When you shop holiday cards and gifts on minted.com using our program code: FUNDRAISEFORK
You'll save 20% off your order + Minted.com will donate 15% to RFC!
Support your Roaring Fork Watershed while spreading holiday cheer!
Your Input is Needed!
Three Mile Creek Confluence Comprehensive Planning & Design Project
The City of Glenwood Springs invites you to participate in planning efforts for the Three Mile Creek and Roaring Fork River confluence. High use of the area over time has resulted in the loss of valuable recreation space and area for riparian plant species to thrive.

RFC is serving as a technical advisor on this project.
To participate, please complete the project survey at www.surveymonkey.com/r/ThreeMileDesign.
December's Spotlight Business Member: SGM
SGM is involved in engineering projects that affect peoples' daily lives – from the roads we drive on to the water we drink.
 ENGINEERING | CONSULTING | SURVEYING

SGM serves as the engineer-of-record for many cities, towns and special districts throughout Colorado and has long-established relationships with attorneys, land planners, architects, developers, landscape architects, geotechnical engineers and construction companies. We have extensive knowledge of applicable federal, state and local regulations. Our knowledge, relationships and experience allow us to provide the right solutions for a wide range of civil engineering and surveying projects. As the largest Western Slope engineering firm, our clients have come to appreciate the large-firm resources we are able to deliver with small-firm, personalized service.
Glenwood Office 970.945.1004 | Aspen Office 970.945.1004 | www.sgm-inc.com

Thank you SGM for helping protect our rivers and streams!